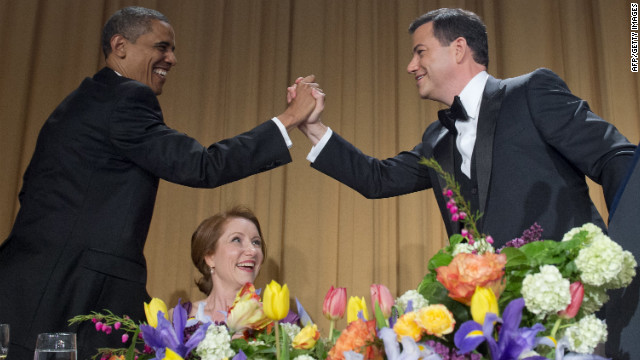 "I wanna thank Mr. Mills, my 10th grade high school teacher who said I'd never amount to anything if I kept screwing around in class. I'm about to high five the President of the United States. Eat it, Mills."
Jimmy Kimmel summed up the White House Press Correspondent Dinner with this humorous line. Call it funny. Call it harsh. I call it telling.
The nighttime entertainer may not have turned out to be a tenured professor or a rocket scientist. He isn't a successful business executive. He is someone that found success through untraditional means. Using his comedic style, he carved a successful career to branch into being one of the highest paid entertainment hosts on television.
When you think of creatives you often think of the struggling artist. Or CEOs like Steve Jobs and Jeff Bezos. The spectrum for success in creative fields is astronomical. As a normal, risk averse individual most of us will look at the risks these success stories took and never for the life of us attempt to replicate that. And there's nothing wrong with that.
What there is something wrong with in this world is the individuals that refuse to even consider putting creativity into their workday. Risk averse individuals that refuse to take on side projects or put creativity in their work day are working against time. Machines are being that are replacing normal, everyday hard working Joe's jobs. Author of The Singularity is Near, Ray Kurzweil has predicted the rise of machine workers for years. You already see it today in some fields. Until an AI machine capable of more creative thought than us is here, our last stronghold will be creative thinking.
What does this mean for the risk averse individuals? The MBA analyst that is more protective about protocol than trying new ideas? Robots with MBAs may not be knocking on employer's doors tomorrow but the status quo will not be something humans excel at in the future.
That doesn't mean you should quit your day job and pick up a paintbrush. That means finding creativity in your everyday work. Work on side projects. Develop a personal brand about yourself that you can say is yours. Become an authority in something.If you're a manager, foster an environment that encourages ideas (even bad ones!).
Creativity is nothing but electrical impulses in your brain that think of something new. Creativity may have not physically put out millions of Model T's on the road but it is responsible for the conveyer belts that made this possible. Creativity is a muscle and the only way to get better is to practice.